Design Your
Own Coin











Multi-Purpose
Coins
- Corporate Promos
- Philanthropy
- Fundraising
- Team & Group ID
- Event Awareness
- Challenge Coins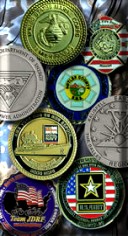 Call Toll Free: 1-800-985-3425
...and much more!

US Medallions specializes in the production and marketing of quality crafted collectible souvenir coins. Customers can now purchase and collect highly attractive coins symbolizing their trips throughout the United States. Each coin is precision crafted in the finest materials including copper, zinc, nickel and brass.

US Medallions specializes in custom coin design and production. Our team of artist can help your business, organization and the Armed Forces create your own custom coin for Free! Our professional artists have many years of graphic experience who can guide you to the perfect designed coin. Custom coins are a great way to promote your business, show organization pride, encourage philanthropy awareness, create fundraising opportunities and to offer as a memorabilia. Simply send us your artwork and we will digitally design your coin without any cost to you. US Medallions will guarantee you the best in pricing, quality and service! Call or submit your Free quote on line today!
Create your own Custom Coin or
Collectible Challenge Coin
Welcome to US Medallions
Collectible Coins
Our coins are masterfully designed in brilliant colors showcasing many historic sites, monuments, landmarks and iconic figures. US Medallions collectible Coins provide lasting memories in the form of a timeless treasured coin.

To view and purchase US Medallion coins that are currently available simply click on the Collectible Coins tab.
© Copyright US Medallions Inc. 2011